One of my favorite sites for sewing is
www.patternreview.com
They have pattern reviews that are so detailed and thoughtful, plus I get to see how stylish and awesome real people are. Sewer people. Like me. Some of my favorite wardrobe/capsules have come from their site because the people there sew because they know what they want and you can't always buy what is in your head, but you
can
make it. That's where I'm at.
So, they're having a mini wardrobe contest. I have a button!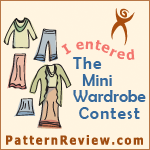 I have problems with buttons, particularly the square ones. Just a thought--there should definitely be more round buttons. Anyway, I'm kind of getting psychotic about burgundy this fall, ever since the Vogue origami incident. So, basically it's burgundy with black, which is so awesome, only for all the chic fashionistas we have to call it (ew) oxblood. Burgundy and maroon are so passe.
This is my inspiration board.
The central dress is how the lace will look like, but it will be in a cascade cardigan as seen top left. No taupe here. This is me doing Polyvore pretty boringly. The skirt... well, I love it. But, I'm not sure if it won't morph into something a little less time intensive.
The contest runs from September 1- 31st. Four items that are supposed to work with one key item. The key item would be my last month's masterpiece, the origami blouse. So... wish me sewing luck, which I need because school is in, and my time is suddenly consumed with that homeschool thing. Today was the first day. Actually, it was marvelous because I have this book about all the days of the year and what exciting thing happened that day... so September is sewing month and Breakfast month. This morning I had all the children make breakfast, and they LOVED it. I mean, if you're going to teach something, it may as well be how to make a nice three course breakfast;)
Happy September everybody!!!