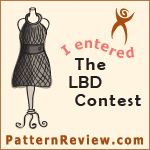 I am excited to make the versatile, classic, ageless basic that never goes out of style. Luckily the rules clearly accept dk brown, navy and charcoal, so I'm in! (I do not need another black dress)
Maybe something like this?
Fuzzy pictures but you get the idea. The second one has pockets! I really like pockets. The top one reminds me of this fabulous goddess vintage gown I have in black silk velvet, truly the most luxurious piece of clothing I've ever worn.
Any opinions? Which one would be more suitable for the classic LBD?
I have a link to the fabulous Viviennefiles who styles a LBrownD for the whole year!
Brown Dress
check it out!